Crèche - Child Care And Education
A flagship programme of the Karnataka State Council for Child Welfare (KSCCW), was started in 1955 by Lady Lokasundari Raman and a committed group of like-minded people. It started as a small unit in the garage of Lady Lokasundari Raman and has now grown to a state wide programme touching the lives of nearly 4500 children in the age group of 2-5 years. Most of their mothers work as domestic workers, agriculture labourers, construction workers and some are just ailing mothers unable to take care of their children.

The project takes care of preschool education, nutrition and health of its children. It empowers working mothers by helping them to continue with their employment and thus improving the standard of living. The project also helps older children in the family to pursue education instead of taking care of younger siblings.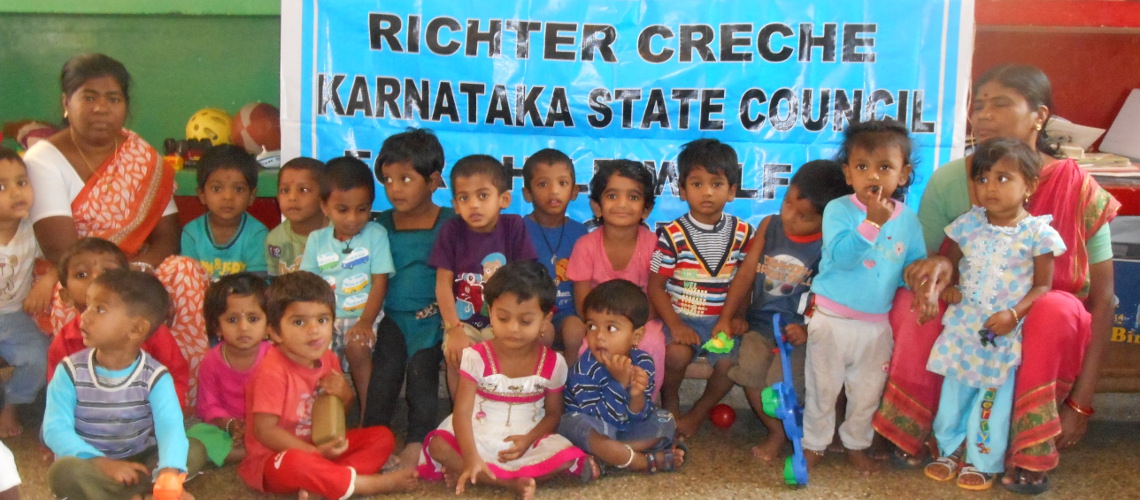 The programme aims:
To promote all round development of children from low income families by providing a safe, healthy, loving, caring and wholesome environment.
To encourage basic discipline, hygiene, punctuality and regularity in attending creches.
To develop healthy social skills in children
To improve existing nutritional standard of the children in the age group 2 to 5 years by providing supplementary nutritious food,
To organize awareness and training programs for mothers in the area of maternal and child health, nutrition and child care techniques.
To allow the older children in the family to pursue their schooling instead of being caretakers for their younger siblings.
The timings of the crèche are from 9-30 a.m to 3 p.m. Nutritious midday meal is given throughout the week to the children. Creche teachers and helpers are trained annually on new techniques in the field of preschool activities and functioning of a crèche. A qualified supervisor is appointed to visit and assess the functioning of each centre. Each creche is evaluated on timings, cleanliness, quality of staff and the programmes. Mother's meeting and biannual health checkup is organised.
Volunteer with Us